Exposure without the cost
Nonprofits can receive a $10k/month grant from Google to pay for ads.
Advertising on Google can be expensive, but there's good news. Google has a special grant program that provides qualifying nonprofits with $10,000 per month in free online advertising. You can use this grant to create an effective strategy to increase recurring donations, new name acquisition, promote products, and program awareness.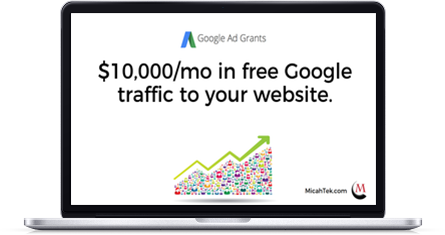 Presenter — Eddie Laing
e has helped raise $250,000 in donations, drive an average of 150 new targeted visitors a day (per client) to lead capture pages, and has been a key player with successful book and product launches – all within the past year.
No Risk Guarantee
Google grant management and acquisition often feels like a risk. Will it work? Will it produce the results we want?
That's why Micahtek chose to take that risk for you. You don't pay if it doesn't work for you.

  Grant acquisition on your behalf

 Ads on Google Search

 Google Certified
"MicahTek is the secret staff behind the curtain that makes us look good, and at a cost that is thousands of dollars cheaper than if we hired our own full-time staff. With their help we are able to accomplish far more than we would be capable of doing by ourselves."

 DANIEL KING
"I just wanted to say how much I appreciate every one at MicahTek. I am amazed at the patience, professionalism, and dedication that you have. It is such a pleasure working with MicahTek."

 MICHAEL ELLISON – TRIVITA
Find out how to receive your $10,000 per month Google grant for your non-profit.
We will create an effective strategy to grow your new name acquisition
Leading Google specialist teaches you how to grow your audience and help your business prosper.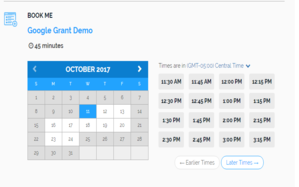 Can't make it?
Register anyway and we'll send you the recording.