Looking For A Call Center Job?
Employment Opportunities At MicahTek
MicahTek is seeking Oklahoma Residents Only. To potentially work as an employees at our Broken Arrow, OK office location, please view our current Job openings and apply online by clicking the following link to our online employment application.
If you are interested in a call center job, we have opportunities for Call Center Phone Agents to work from home or to work in our office. Please complete the following three items when applying for a Phone Agent position:
1. Please complete an application for employment by clicking the following link to our online employment application.
2. Please click here to take the online data entry test ⇒ data entry test
3. Please submit a resume via email to employment@micahtek.com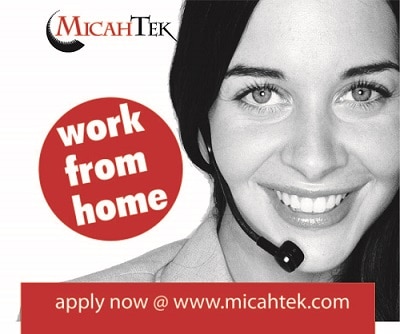 MicahTek, Inc. is a hi-tech progressive corporation offering over fifty job classifications. The Human Resource Department is continuously searching for qualified applicants who can work with integrity, fairness and confidentiality. MicahTek, Inc. offers competitive benefits for part-time as well as full-time employees. Optional benefits include medical, dental, disability, life insurance and 401-K Retirement Plan.
Transfers and promotions from within the company are typical; however, oftentimes supervisory and managerial positions as well as entry level positions are filled from new applicants. Technical experience is a benefit, but not necessarily a requirement.
There is great demand for phone agents with data entry skills to serve the 24-hour, 7-day a week Call Center. MicahTek provides on-site training and cross-training. Phone agents answer inbound, scripted calls to process product orders, donations, Prayer calls, and special events through data entry directly into the computer systems.
Please apply by selecting the 'Apply Now' button. If you have questions, feel free to email our Human Resource Department.
When there is a need for hiring, applications are reviewed and potentially qualified applicants are called to set up appointments for data entry testing and possible interviews.
EEOC
---
MicahTek, Inc.
ATTN: Human Resource Director
8215 S. Elm Place
Broken Arrow, OK 74011
Contact the office: (918) 449-3300
Office Hours are Mon.-Fri. 8:00a.m. to 5:00p.m.